For many homeowners, curb appeal is very important. Most people work hard to keep their lawns looking beautiful. After a long, cold winter, your grass is going to need a lot of maintenance. After being covered under snow for several weeks or months, and dealing with the cold weather, your grass will not grow in properly unless you take care of it in early spring.
The best time to begin your lawn maintenance is right after the last frost of the year. This is usually in early April. You can check best trimmer here. It is important to take care of your spring lawn maintenance at the right time, as certain steps need to be performed before the soil reaches a certain temperature.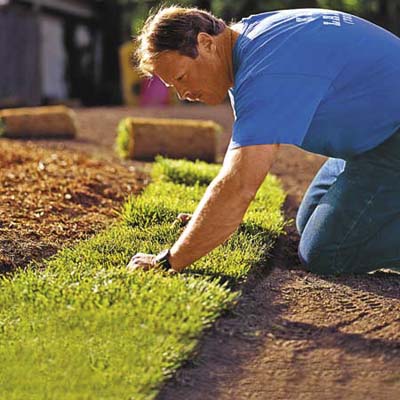 Debris Removal
The first part of your spring maintenance project is cleaning up the debris in the yard. It is not uncommon to find sticks and branches on the lawn, which fell down during the winter. You may also find rocks and other debris that ended up on the lawn after shoveling snow, using your snow blower, or as a result of your street being plowed.
Raking
The next step is raking. This is very important so that you can get proper air flow into the grass. It will also prevent disease and insect infestation. When the old dead grass is gone, it makes it easier for the new blades to grow without struggling.
Crabgrass Control
It is very important to handle the crabgrass before it has a chance to become a problem. Once crabgrass has a chance to germinate, it is extremely difficult to get rid of it. You should apply a crabgrass control agent in the early spring. It needs to be applied before the soil temperature reaches 55 to 60 degrees. If you wait too long, the seeds will have a chance to germinate, and the crabgrass control agent will not be effective. The crabgrass will remain a problem until it dies again during the next winter. This can ruin the look and the health of your grass for the entire season.
Fertilizer
After your grass has been asleep all winter, it needs fertilizer to give it a jump start in growth. Fertilizer will provide the grass with the nutrients that it needs to withstand the heat, hot sun, and the drought that summer can bring.
Aeration
In order for your lawn to get the amount of water that it needs to grow, you should aerate the lawn. This is simply using an aerating machine, aerating shoes, or a pitch fork to poke holes into the lawn that are deep enough for water to reach the root zone quickly. The lawn should be aerated before the soil reaches between 55 and 60 degrees. If you aerate when the soil is warmer than 60 degrees, the holes will create access points for aggressive weed seeds.
Lawn Repairs
A long winter can cause a great deal of damage to your lawn. Salt and snow plows can tear up and kill the grass. After you have completed the above steps, and there are areas of grass which have not grown back, it is a good idea to replace the grass seed, allowing new grass to grow in those areas.
It takes a great deal of early spring time maintenance for your grass to grow green and thick by mid spring. With a little TLC early on, you will have a lawn which gives your home curb appeal.